It's amazing what a little time and tutorials will do for a picture.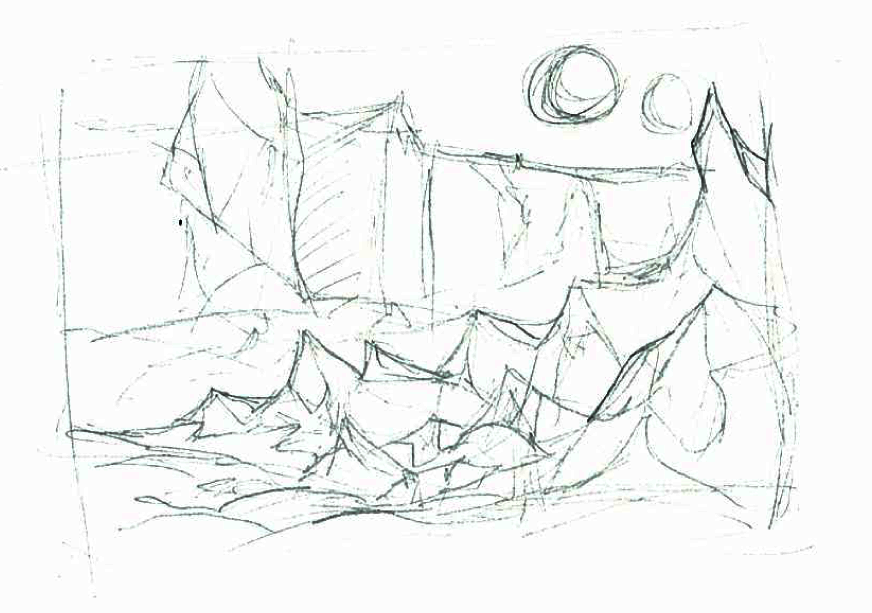 It all started with this throw-away sketch I did... I honestly want to say in my Watercolor class. Which would put this at late 2011. Maybe earlier, IDK. I actually have this tiny sketch colored WITH watercolors, but that's not what this post is about.
As an experiment, to test out my Livestreaming capabilities, I decided on a whim to MOUSE-COLOR THIS. Yes, I had no tablet and was THAT DESPERATE to color this image.
Mouse-coloring. The thing I haven't done since high school. LORD WAS IT A MISTAKE.
....well, maybe not a mistake-mistake, but this was as far as I got with mouse coloring. I think that was after about an hour and a half of work? Granted, that was from sketch to flat colors (above) and starting to block out/shade the ice itself.
A few weeks later, after I had regained my sanity and dropped trying to color this with my mouse, I was over at
dora's
apartment, where he was letting me use his tablet.
COLORING GOES SO MUCH FASTER WITH A TABLET, GOSH.
I also, uh, got carried away a little bit with the detail work. Which, I usually do with ice... but the day after I did this (which was about four hours worth of work, btw), I realized that I sorta needed to not have the foreground be so busy.
I tend to get really absorbed with working on the facets of ice.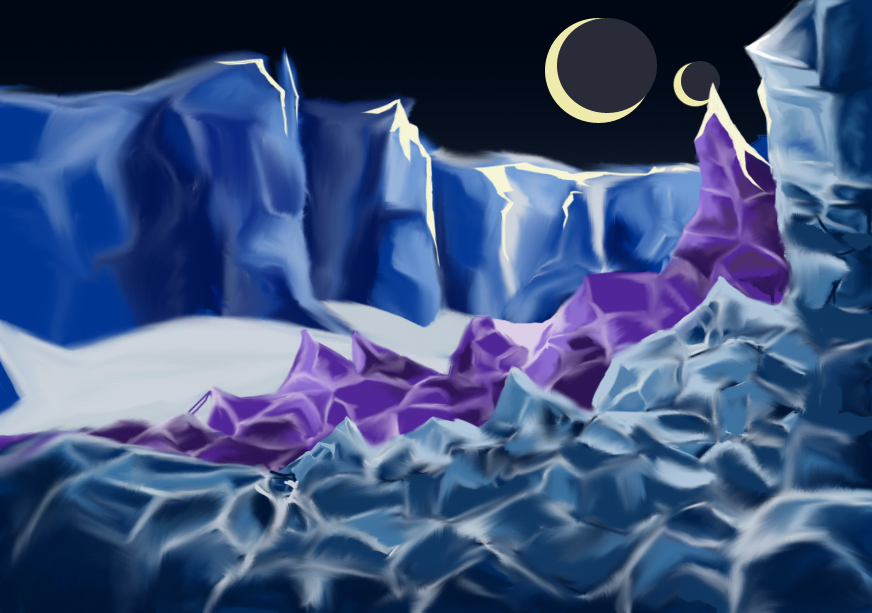 So a few weeks later, dora let me borrow his tablet again and I worked on "fixing" the foreground, as well as doing a little more work on the picture overall. About another... ehn, collective three hours? On this part.
You can see where I went back over the foreground and re-blocked some of the bigger areas back into larger chunks, as well as worked on smoothing out the back floes. I also moved the moons over a little, just as an aesthetic touch.
This doesn't look like the same picture, does it? Well, aside from the picture titles I can assure you: it IS the same picture.
However the difference is, is the tutorial I found in between weeks of not doing anything.
It's a pretty awesome tutorial.
When I ran across it I was like, "Man, I wish I had a picture I could try this out on. ....oh
wait
".
Cue turning the current picture on its ear, getting rid of all of those mouse-colored hours and reworking the ENTIRE THING according to the tutorial. This is exactly why you never need to be afraid of stopping a picture mid-work and completely rehashing it. Sometimes it turns out SO COOL.
Which is where we are now. A couple more filters, added in some old tricks I picked up when I first started coloring ice (like adding noise to create a vague grainy texture underneath the ice) and the picture is pretty near completion.
I still need to finish up the back floe, plus figure out what I'm ACTUALLY doing with the mid-ground snow... and try to figure out how to accent purple ice without turning it neon pink.
~*~
But yes. Time and tutorials can do wonders for changing an image. Never be afraid to experiment with your work!